There are many ways to invest in the School of Ballet Arizona, which is a not-for-profit organization. To discuss the many projects and opportunities that could benefit from your support, please contact the Development Department of Ballet Arizona at 602-343-6522.
---
Volunteer Opportunities
for Parents
Your Help is Needed!
The School of Ballet Arizona works with you, our parents, to maintain a network of volunteers dedicated to serving the needs of The School of Ballet Arizona.
The job of a Rehearsal and/or Backstage Parent Volunteer is crucial to the success of a performance. Once selected to be a backstage parent volunteer, we ask that you commit to be at rehearsals/performances and to carry out all responsibilities asked of you. You may advise the School which levels and responsibilities you prefer and we will do our best to accommodate that request.
Click the Sign Up Genius button to start volunteering today!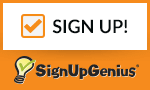 ---
Shop & Give
You can now support the School every time you shop at Bashas'.
What do I need to do?
Link your Thank You Card to our Group ID Number (24897) at any checkout. Be sure to have your card scanned every time you shop at Bashas'.
How does this help?
Bashas' designates a portion of your purchases back to us at the end of the program.
Raise Funds for us at absolutely no cost to you!
Support The school
through your daily purchases.
Join eScrip for free and earn up to 10% in rewards for The School of Ballet Arizona for things you already do, like grocery shopping, travel, dining, and shopping online.
What am I signing up for?
During the registration process you are asked to register your Safeway Club Card, credit/debit cards and retail credit cards that you use for purchases. When you use any of these registered cards with a participating merchant partner, the merchant makes a contribution that goes to your designated group or organization. Remember to use your cards for every purchase and you will automatically earn money for The School of Ballet Arizona.
How do I sign up?
Register for eScrip online. Enter The School of Ballet Arizona for the Group Name. Have your Safeway Club Card and any credit/debit and retail credit cards you use for purchases.
How does my group get paid?
The School of Ballet Arizona will receive an electronic deposit into its bank account every month. This deposit will include contributions from all of your group's participating supporters.
Take a look at just some of the participating merchants:
Safeway
Macy's
Acacia Café
Expedia
Barnes&Noble.com
Ebay
Petsmart.com
iTunes
ToysRUs.com … and many more!